Very few toys, even in their simplest form, offer the same advantages blocks do, from emotional growth and resilience, to art and visual-spatial practice, to the more obvious engineering aspects. Research confirms what kids, parents, and teachers have known for centuries: playing with building blocks is not only fun, it's also really, really good for you. Blocks, though deceptively simple, are perhaps the most versatile toy ever conceived.
In her introduction to The Block Book, Harriet M. Johnson relates a story that probably sounds familiar: "Toy makers have put blocks on the market for many long years, decorating them with letters of the alphabet in an attempt to sneak something 'useful' into a child's play. But young children usually ignored the letters and piled the blocks" (Hirsh, p. 9). The fact that young children, not yet reading, would ignore the letters on the blocks should come as no surprise—kids want to play!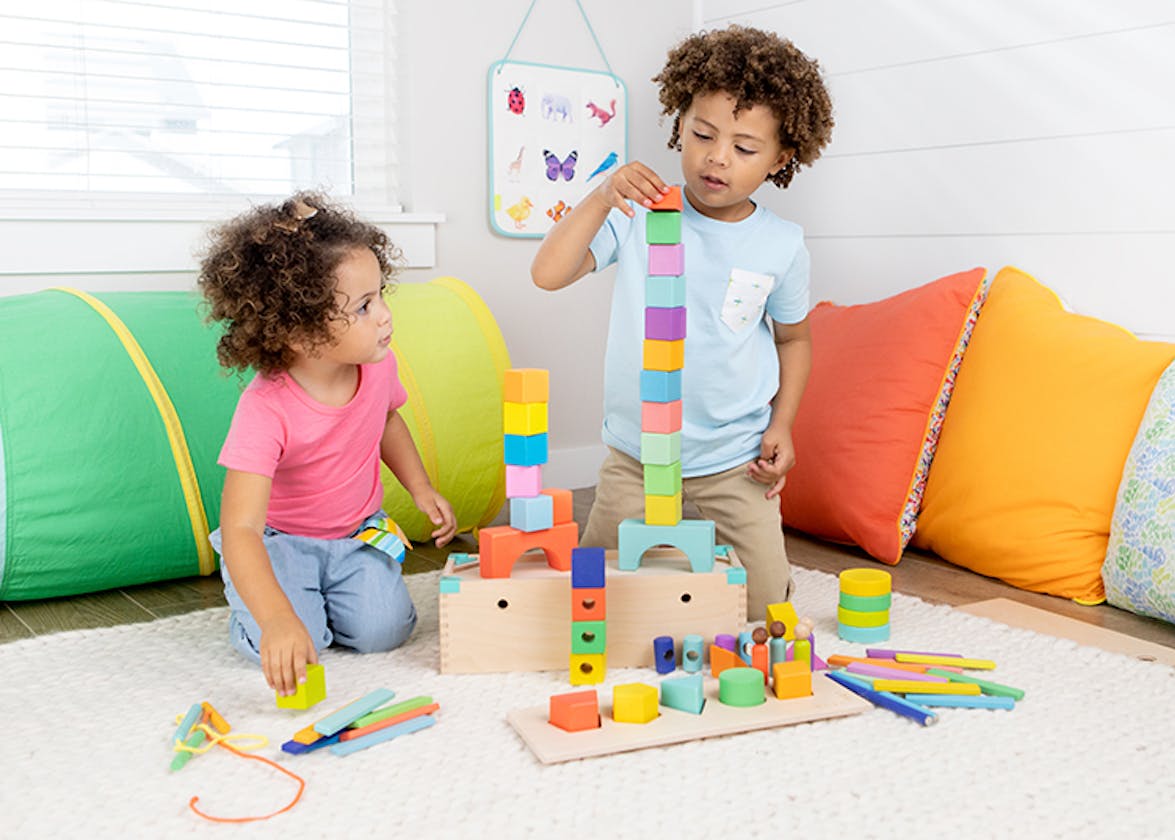 Blocks don't need anything academic "snuck in." They already offer so much without attempts to dress them up. Kids approach blocks in both common ways (stacking, building, toppling) and more unique ones: watch five kids play with blocks, and you'll likely see five different approaches. Innovation in block design isn't about shoehorning lessons into them, it's about harnessing kids' imaginations alongside natural creativity. A good block set shouldn't come with forced lessons—its designers need to understand what makes blocks fundamentally engaging and provide fresh opportunities for creativity.
Why are blocks so foundational to childhood? The benefits of block play are enormous, and engage a ton of skills.
Here are some of the many benefits of playing with blocks:
Physical & Developmental
Blocks are probably the ultimate hand-eye coordination toy, given everything that's required of stacking, balancing, adjusting, and all the tasks involved in building. They also exist at the intersection of fine and gross motor skills, from fine-tuning a wobbly tower to toppling buildings and hurdling a stack of blocks on the ground.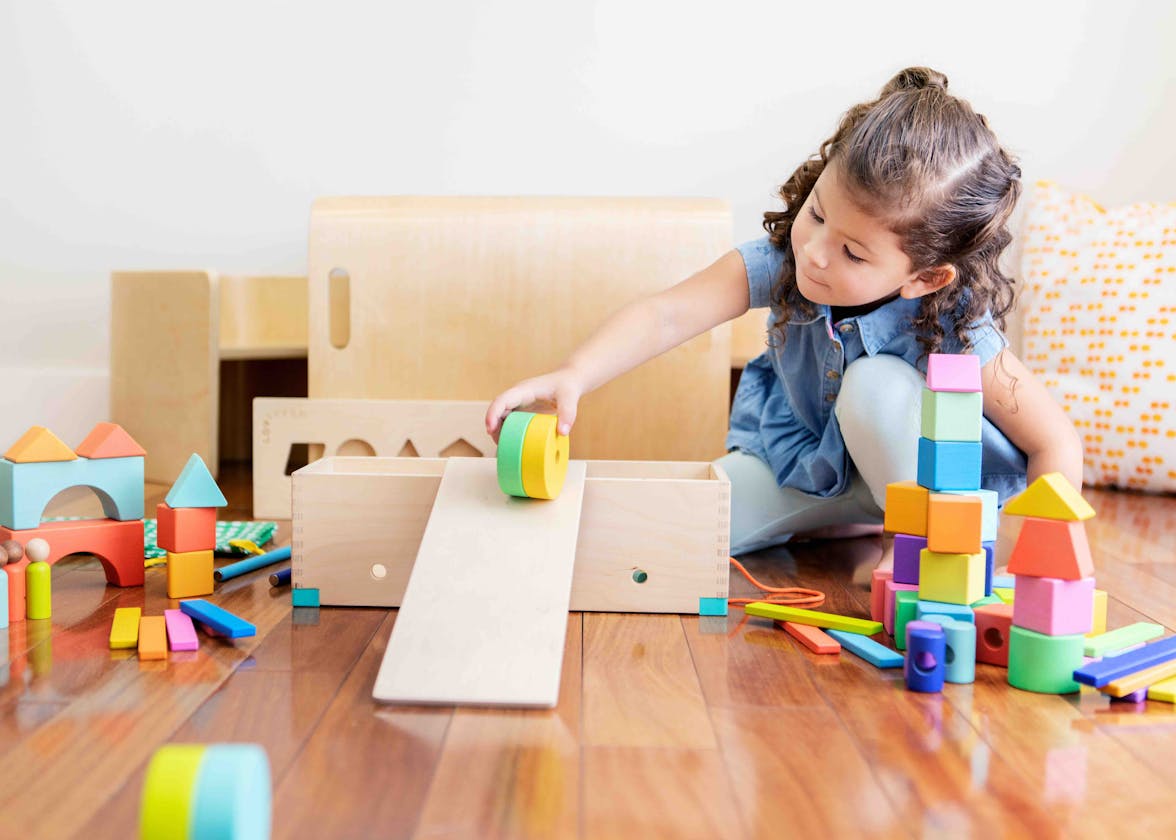 Engineering
Fun fact: the word "engineer" comes from an Old French word meaning "skill, wit, cleverness." When they play with blocks, kids get a chance to be clever: as designers and builders, they get to problem-solve, troubleshoot, and test hypotheses, all in the name of play.
Math
So many early math concepts are practiced when kids play with blocks it's impossible to list them all. Pattern recognition, symmetry, fractions, explorations of volume and linear measurement… when kids are immersed in block play, math is all around them. There are also opportunities for basic counting, as well as one-to-one correspondence.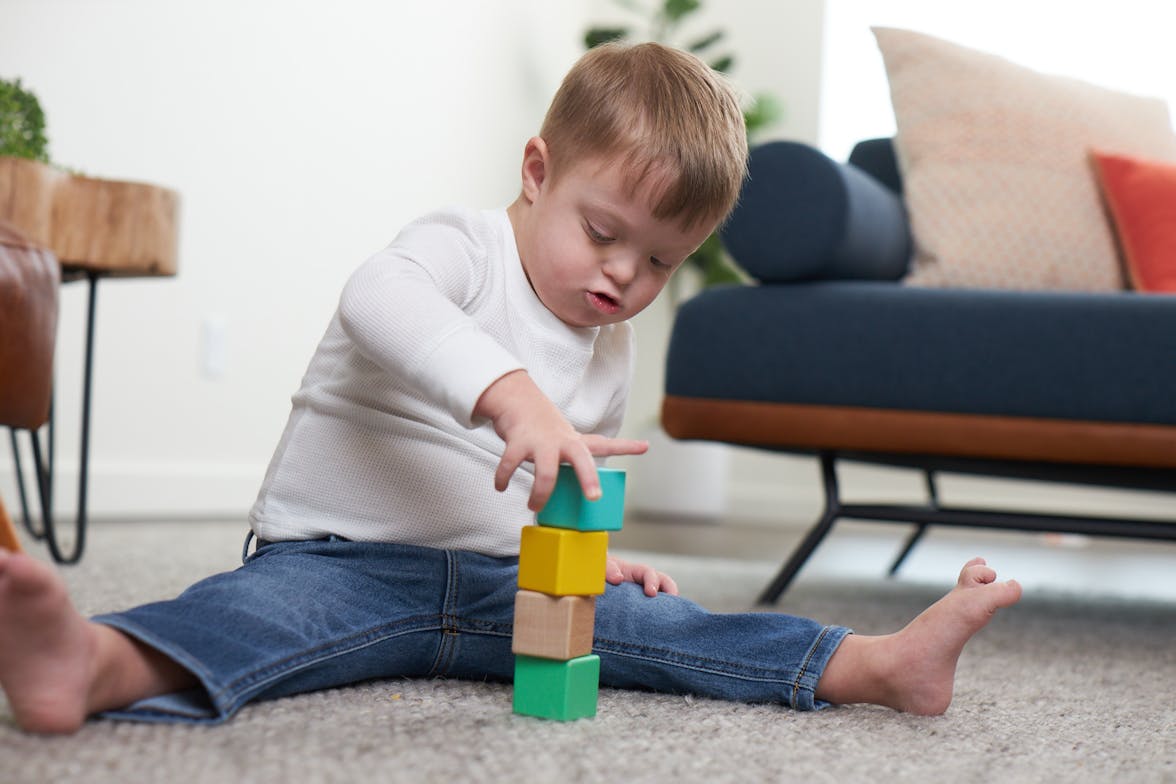 Art
Architecture isn't just about engineering and design, it's also about self-expression. Kids are able to flex their artistic muscles when they create structures, whether they're flat on the ground or towering above.
Social Emotional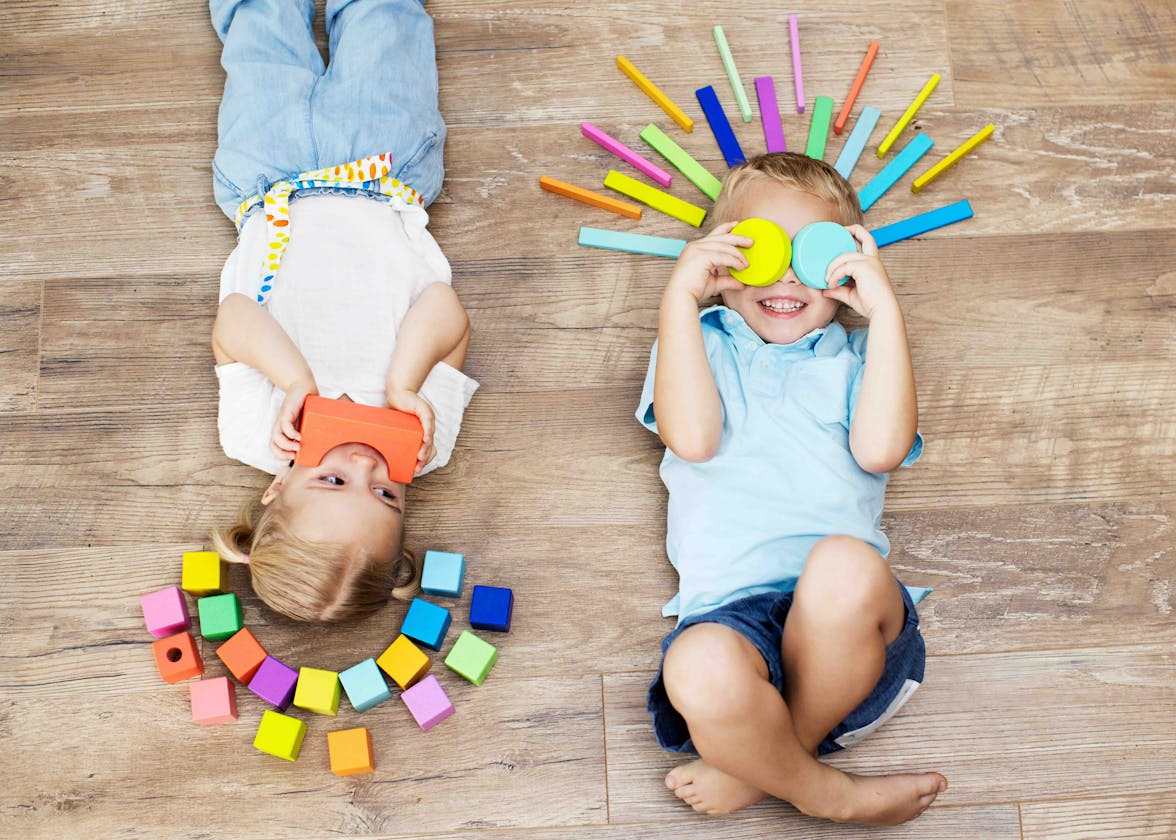 Building a structure alone is one thing, but doing it with a partner—or three—is a tricky task. Cooperating, problem-solving, sharing, speaking up for yourself… these are not things that necessarily come naturally to toddlers and preschoolers. Block play provides unique opportunities to practice all of it.
Science
Gravity is among a baby's very first science lessons: when you drop something, it falls. As they turn into toddlers, the fascination with gravity doesn't stop, but now they have more control—and other scientific concepts emerge, including balance, weight, density, and the basic laws of physics. A child trying to add one more block to a teetering tower is learning scientific concepts in the most fun way possible: if they fail, a spectacular demolition awaits them!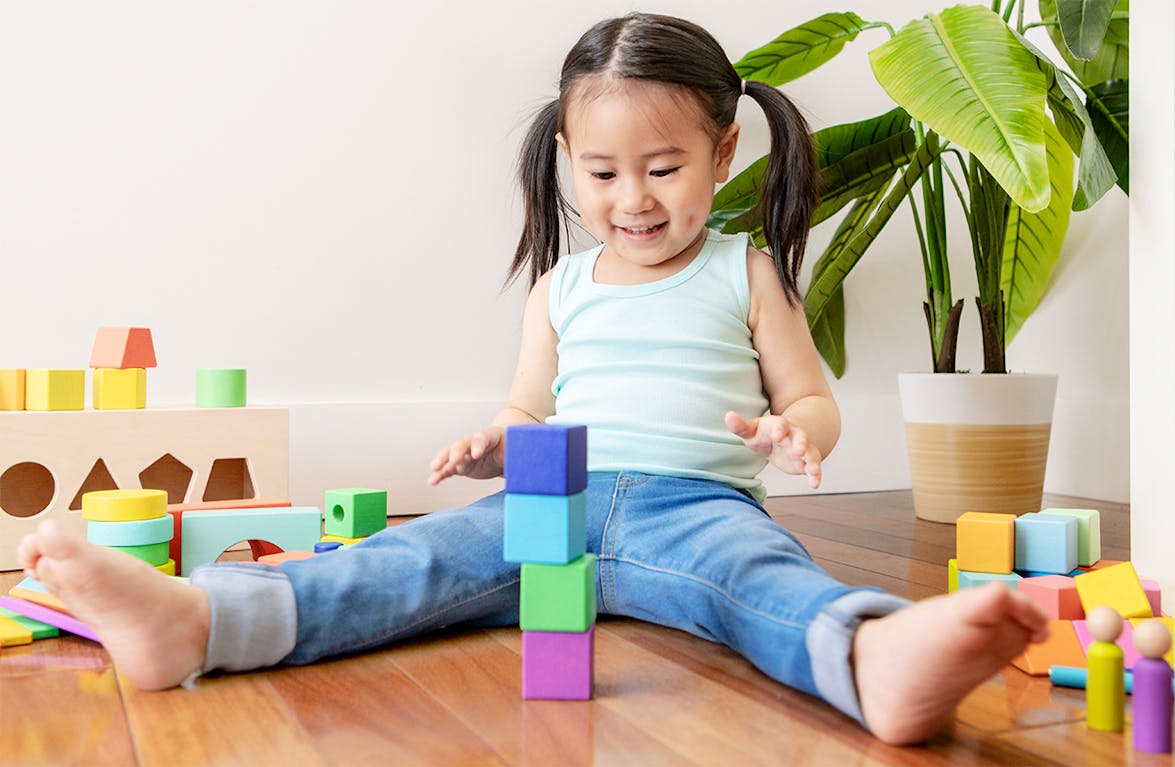 Speech & Language
New vocabulary and terms await kids at every turn, from "stack" to "sturdy," from numbers to sound words like "crash" and "bang." Blocks also promote oral self-expression: asking questions, requests for help, and telling stories about what you've built.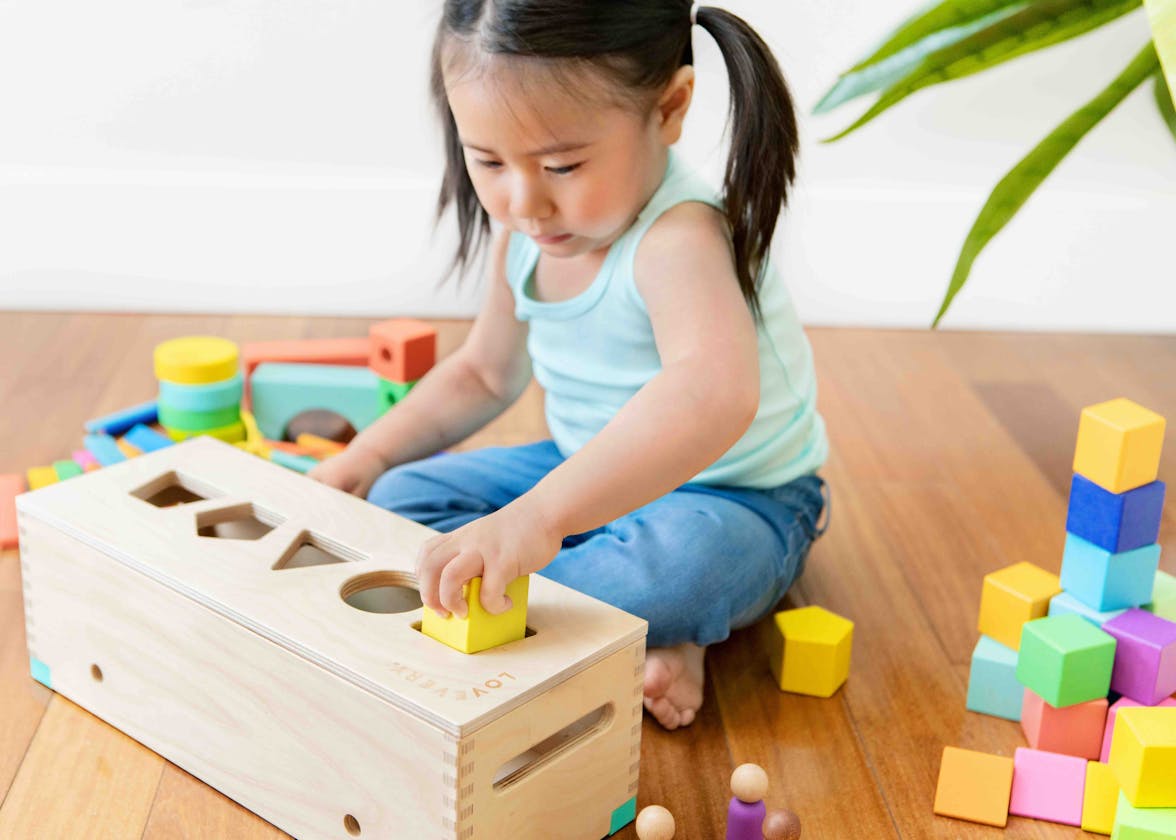 Humanities
Block play easily lends itself to learning about human cultures. When kids design cities, make maps, and engage in imagination play in the worlds they've built, they're tapping into a social studies vein that will later because such an important part of their education.
STEM—now often written as STEAM to include art—is a popular educational framework because it brings together a number of interrelated concepts. Blocks are the original STEAM toy: they put it all together in one package.
by Team Lovevery|February 7, 2020